Our Products
Mobile Dimension Saw

Gasoline Sawmill
Order Form

Electric Sawmill
Order Form
Putnam Bogie Trailer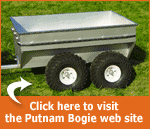 Mobile Dimension Saw - Specifications
The following shows one way of sawing a log into lumber. The vertical line in the illustration shows the main sawblade cuts while the solid horizontal line shows the bottom edger sawblade cuts. The dotted horizontal line shows the saw cut of the top edger sawblade.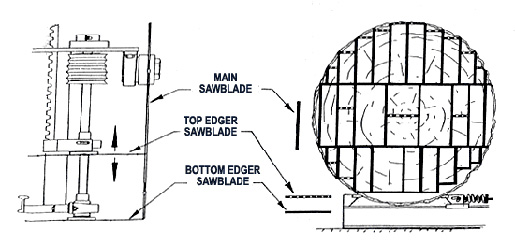 The Mobile Dimension Saw is positioned both vertically and horizontally by the operator by calibrated controls. The positioning can be changed at any time to obtain the sizes of lumber desired and obtain maximum lumber recovery from the log. The vertical position will determine the width dimension of the lumber. The horizontal position will determine the thickness of the lumber. The vertical dimension of the lumber (width) can be as large as 12-1/4" (310mm). The horizontal dimension of the lumber (thickness) can be as large as 8-1/4" (210mm) for the Model 128. These larger cuts are obtained by using the large single edger sawblade. The above models and Model 12 can saw lumber with the double edger sawblades as thick as 4-1/4" (110mm).
The 24" (600mm) diameter log illustrated above describes a random sawing operation. The log diameter could be any size as the Mobile Dimension Saw is unlimited to the size of the log that can be sawed. We are only showing one way of sawing the log. Both vertical and horizontal dimensions as well as the adjustable top edger sawblade could be changed in an infinite number of ways to completely saw the log into the desired sizes of lumber. The log is held in position by log holders under the log.
Power Options
Gasoline Engine
Gasoline-powered Volkswagen engine assembled by Mobile Manufacturing Company using specially modified and original parts.
Air-cooled, 4 cylinder, 4 cycle, governor, throttle, choke, oil temperature and pressure gauges, fuel pump, fuel filter and fuel tank.
Battery key start, distributor, alternator and hour meter.
Weight: 270 lbs. (122.7 kg)
Two power units available: 1700cc (57hp) 1835cc (67hp)
Engine Fuel: regular, premium grade, leaded or unleaded gasoline.
Electric Motors
Fully enclosed 25 hp and 15 hp, aluminum frame 230/460 volt, 60 cycle, three phase with electrical motor control panel, start-stop and safety switches, control and power wiring. (Other voltage and cycle ratings also available.)
Weight: 550 lbs. (250 kg)
Electric powered model
The double electric motors obtain a horsepower rating much higher than their 25hp & 15hp. The duty cycle of the sawing operation allows these motors to develop 4 times their constant horsepower ratings. The 25hp motor becomes 100hp and the 15hp become 60hp. The included control panel allows the motors to obtain this higher horsepower output while still protecting them from overheating. The electric sawmill is built stronger and has more teeth in the sawblades to allow faster sawing speeds and more production. The electric motors are aluminum frame so they are much lighter than cast iron motors.
Track
Standard length included with all models: 20 feet (two 10 foot lengths) (6.096 m).
Weight: 380 lbs. (173 kg)
Sawing length 16' 4'' (4.98 m)
Additional Track Lengths
4 ft. (1.22 m): 85 lbs. (39 kg)
6 ft. (1.83 m): 125 lbs. (57 kg)
10 ft. (3.05 m): 190 lbs. (86 kg)
Feed Control
Hydrostatic: All models and power options.
Operator controls feedrate and direction with automatic reverse at far end and neutral at head end.
Saw teeth require resharping approximately every 1,000-3,000 bd. ft. (2.2-6.6 m3); replacement every 30,000-50,000 bd. ft. (66.6-111.1 m3).
Model 12XLS
Double edger saws permit either one or two pieces of lumber to be cut simultaneously.
Maximum Cut
4-1/4'' x 12-1/4'' (107.9 mm x 311 mm)
Minimum Cut
1/8'' x 1/4'' (3.18 mm x 6.35 mm)
Main Saw Blade
Diameter: 30'' (762 mm)
Kerf: 5/16'' (7.94 mm)
Optional 1/4'' (6.35 mm)
Edger Saw Blade (2)
Diameter: 11-1/2'' (29.1 mm)
Kerf: 1/4'' (6.35 mm)
Carriage Weight: 230 lbs. (104.5 kg)
Cutting Cycle
15 - 90 seconds, 16-foot (4.88m) log. Average production, one man, per day: 1,500-5,000 bd. ft.(3.5-14m3)
Model 128
The Model 128 can be operated as either a double edger sawmill or as a single edger sawmill. When operated as a double edger sawmill the specifications are the same as the Model 12XLS. The Model 128 can be quickly converted to single edger operation by replacing the 11-1/2'' (292.1 mm) bottom edger with a 19-1/2'' (495 mm) edger blade. (Production is increased beyond that of the double edger set-up, when lumber of larger dimensions than the double edger set-up can saw are, produced.)
Maximum Cut: Single Edger
8-1/4'' x 12-1/4'' (210 x 311 mm)
Single Edger Sawblade
Diameter: 19-1/2'' (495 mm)
Kerf: 5/16'' (7.94 mm)
Optional 1/4'' (6.35 mm)
Main and Double Edger Sawblades
Your production may vary depending on the following: diameter and length of logs, hardness of logs, size of lumber sawed, power option and optional accessories used.