Portable Sawmills
The Mobile Dimension Saw.
The World Standard in Portable Sawmills, Since 1962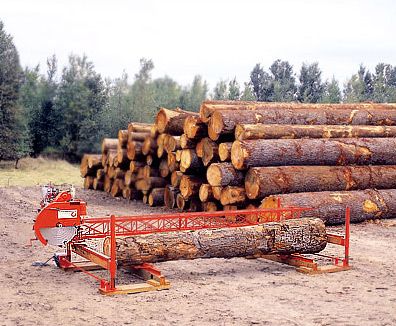 NOTICE: We are currently relocating and are not manufacturing at this time; however, we are supplying parts during the relocation process. We are still taking orders for new sawmills.

The Mobile Dimension Saw is so portable, it can go just about anywhere. So capable, it saws logs of any diameter - up to 60 feet (18.3 m) in length - hardwood or softwood. So unique, it takes only one man to operate. So accurate, you can build without planing the lumber. And so economical, it uses less than half the energy of any standard mill.
The Mobile Dimension Saw, day in and day out, continues to prove it's versatility and reliability - in every state of the U.S. and in more than 60 countries around the world.
Whatever and wherever the project - schools, churches, homes, hospitals, barns, bridges, furniture, fencing, log cabins - the Mobile Dimension Saw makes it possible. It produces quality dimension lumber with the ease, economy and dependability that has made it the world standard in one-man portable sawmills.
When you purchase a Mobile Dimension Saw, you get a sawmill that's proven dependable and customer service to match. To learn more, see what our customers have to say or contact us for a quote.