Our Products
Mobile Dimension Saw

Gasoline Sawmill
Order Form

Electric Sawmill
Order Form
Putnam Bogie Trailer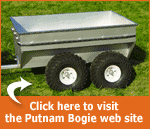 Mobile Dimension Saw - Accessories
The Mobile Dimension Saw offers a wide variety of accessories. At Mobile Manufacturing Company, we welcome the suggestions and requests of our customers. Over the years, thanks to their input, we have developed a wide variety of accessories to fit the many specific needs in the diversity of many sawing applications.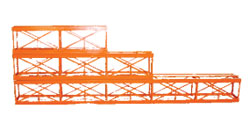 Track Sections
Available in 4-foot (1.22 m), 6-foot (1.83 m) and 10-foot (3.05 m) sections. Each additional foot added will allow cutting of one additional foot of log.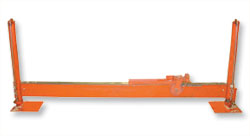 End Stands with Rack and Pinion Crossfeed
Four individual corner posts that quickly raise and lower the saw at both ends simultaneously (hand crank, standard). Only one end shown.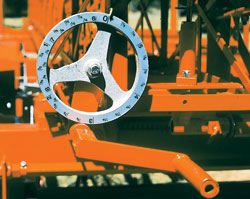 Rack and Pinion Crossfeed Assembly
The horizontal movement of the saw is by a pinion gear and pinion rack assembly instead of the standard cable advance and lumber gauges that contact the log. The dimension of the cut is gauged by a dial at the operator's end. Used only with end stands. This is included with the end stands.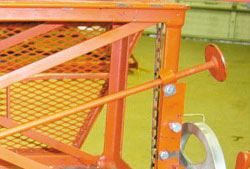 R & P Offset Control Rod Assembly
Used to adjust (offset) the sawmill to the taper, curve or position of the log. Included with the end stands.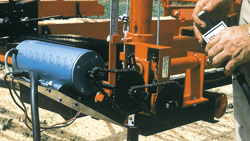 Motor Lift
A reversible 12-or 24-volt DC or a 115-volt AC motor for raising and lowering the end stands automatically. DC power is provided by one or two 12-volt batteries or 115-volt standard AC electricity.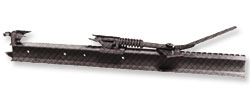 Log Holders
Used to hold the log or logs in place. Used primarily with end stands but can also be used with the board and block set-up.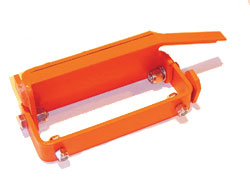 Log Risers
Used with the log holders to offset the taper of the log. Log risers also allow small logs to be more fully sawed for less waste.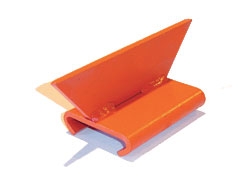 Log Slides
Used to hold two logs at one time 13 inches (33 cm) or smaller in preparation for cutting. Advised to order in pairs.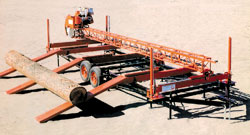 Steel Trailer
Heavy duty steel frame which comes with 4-foot (1.22 m) end stands, rack and pinion crossfeed and 4-foot (1.22 m) track section which allows the sawing of logs up to 20-feet (6.1 m) in length. Five log holders with log risers are also included. Eliminates assembly and disassembly when moving from site to site. Eight-foot (2.44 m) width meets towing requirements. Tandem axles allow for easy, stable towing. Trailer can be extended to saw 26-foot (8 m) logs by adding an additional 6-foot (1.83 m) track section.
Steel Frame For End Stand Set-Up
Steel frame to set-up end stands quickly and easily and have a firm foundation. The frame is available in all widths and lengths to allow for your cutting requirements. Easy assembly with fitted parts bolted into position.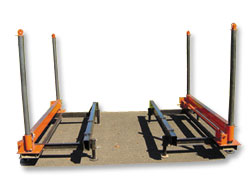 "H" Support Frame For End Stand
The "H" support frame is a short version of the steel frame to set up the end stands. It uses the weight of the log to stabilize the end stands. The width is determined by the size of the end stands.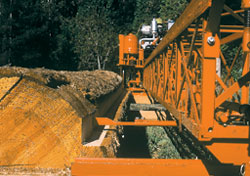 Lumber Gauges
Two devices attached to the track (one at each end of the log) to gauge the desired dimension of each cut. The standard sawmill is equipped with two gauges. Lumber gauges are not used with the rack and pinion crossfeed.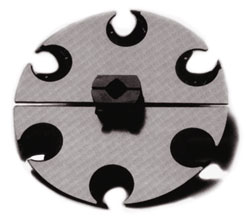 Split Edger Saw Blade
A third edger blade that can be positioned anywhere on the edger shaft, allowing the operator to cut three boards in a single pass. Additional edger blades (to a minimum 2-inch (5 cm) spacing on the edger shaft) may be added for cutting multiple dimension lumber.
Saw Blade Coolant System
Water directed to the saw blades to keep them clean and cool. Water is only applied during the cutting cycle.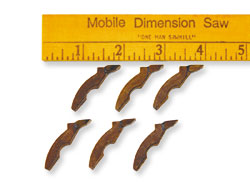 Saw Blade Teeth
Replaceable teeth that are inserted in the saw blades. The teeth can be resharpened and replaced as required. We recommend stellite tipped teeth for long life and maximum production between sharpening.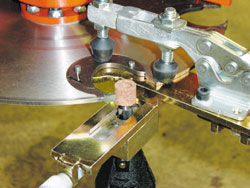 Saw Mounted Tooth Sharpener
This grinder sharpens the teeth in the saw blade(s). Easily used and positioned, it sharpens the teeth to the correct angle and desired sharpness. 12-volt DC or 115-volt AC models are available.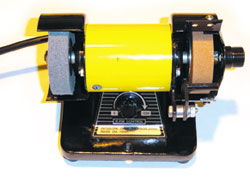 Bench Tooth Sharpener
115-volt AC motor to sharpen teeth out of the saw blade(s). Two models are available (one heavy duty and one standard duty).
Trailer Light Bar
A light assembly with tail, turn, and brake lights for the standard 2-wheel trailer. Used when towing the saw on the highway. All necessary wires and connections included.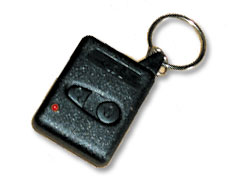 Remote Engine Shutoff
A small hand held radio transmitter that can stop the engine from up to 50 feet (15.24 m) away from the engine.