Our Products
Mobile Dimension Saw

Gasoline Sawmill
Order Form

Electric Sawmill
Order Form
Putnam Bogie Trailer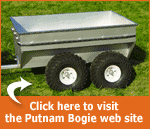 Mobile Dimension Saw - Options
Endstand Option | Power Options | Hydrostatic Feed Control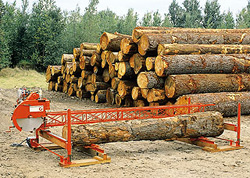 To increase production - and simplify operations - Mobile Manufacturing Company also offers endstands that allow the operator to raise and lower all four corners of the sawmill at one time - from the operator's position at the head of the saw - without constructing a board-and-block framework. The smaller diameter of trees in many regions today results in a majority of our customers utilizing this system.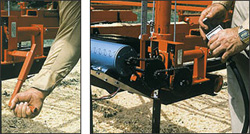 Available with either a hand crank or an efficient motorized control system, endstands can be raised and lowered quickly and easily.
Endstands are available in a variety of heights to accommodate logs of any diameter. Endstands can be mounted on a framework constructed at your cutting site, installed on a trailer you build yourself, or placed on a portable endstand trailer built by Mobile Manufacturing Co.
The Mobile Dimension Saw delivers all the power you need.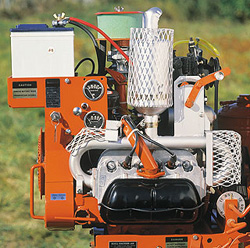 The Mobile Dimension Saw offers two different power options to fit different sawing requirements. The power unit recommended will depend on a number of factors - log species, climate, altitude at the cutting site, dimensions being cut and level of production desired. A 57-horsepower Volkswagen engine - modified to reduce weight and improve performance in adverse operating environments - is standard equipment on the Mobile Dimension Saw. This lightweight yet powerful economical gasoline engine is also available in a 67-horsepower model. All engines are completely assembled in our own plant and modified using purchased original equipment parts and parts manufactured by Mobile Manufacturing Company. In thousands of hours of operation in every kind of climate, these engines have proven to be exceedingly reliable, requiring only routine maintenance and minimal care.
Extensive modification to the cooling, fuel system and crankshaft provide unmatched reliability and economy in even the harshest environments. One gallon (3.7 L) of regular gasoline cuts from 500 to 2000 board feet (1.2 to 4.8 m3) of lumber depending on the species and dimensions being sawed. The gasoline engine is easily removed and reinstalled on the sawmill, so it can be used to power other equipment such as planers, table saws, pumps or electric power generators. These engines are equipped with U.S. Forest Service-approved spark arrestors and a detachable gas tank.
Electric Powered Mobile Dimension Saw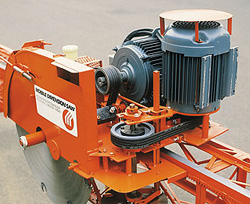 The Mobile Dimension Saw is also available with electric motors. For operations that have adequate electric power available and equipment to deliver the logs to the cutting site, the electric powered model is the saw to use. Assuming other factors - dimensions cut, log species, and operator efficiency - remain the same, the electric powered Mobile Dimension Saw is capable of producing up to 3 times the lumber produced by the gasoline powered models. Each saw shaft is powered by it's own motor. The main saw by a 25 hp motor and the edger saws by a 15 hp motor. The work cycle of the sawing operation allows these motors to perform at three times their rated horsepower. Maintenance requirements for electric motors are minimal. So if you intend to install a Mobile Dimension Saw at a permanent site with access to electric power or if you have a generator, consider the electric motor option. It will pay off in greater production, low maintenance and lower operating costs.
Electric Sawmills can be set up in one location with commercial power or can remain portable and use a generator. All Mobile Dimension Saw models come with two main guard saw dust discharge chutes.
The operator has complete control of the Mobile Dimension Saw throughout the sawing sequence. The variable-speed hydrostatic controls give the operator positive, fingertip control of the complete sawing cycle from a stationary position at the head of the saw. The forward-neutral-reverse movement and fast-to-slow feed rate may be changed at any time and as often as you wish. So you can move into and out of knots, twisted wood grain, or from softwood to hardwood and still maintain optimum production.
Hydrostatic control provides more feed speed options with fewer moving parts involved in the feedworks system. The hydrostatic unit is sealed and self contained, and has an excellent record of giving years of dependable service with very little maintenance. This unit goes along with Mobile Dimension Saw's modular construction practice that makes it extremely easy to field maintain and replace parts with little or no special training.