Our Products
Mobile Dimension Saw

Gasoline Sawmill
Order Form

Electric Sawmill
Order Form
Putnam Bogie Trailer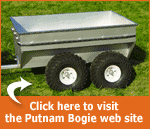 The Mobile Trailer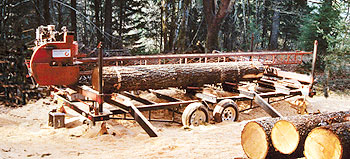 Mobile Manufacturing Company's telescoping Mobile Trailer offers the optimum in productivity and operating ease. With the Mobile Trailer you arrive at the sawing site completely set up and ready to operate. With it's eight-foot width and telescoping side channels, the Mobile Trailer meets all legal requirements for highway towing. Once you reach your cutting site, the side channels can be lengthened if you want to saw logs longer than 20 feet (6.09 m) in length. The side channels are quickly and easily telescoped in length, if necessary, allowing you to saw logs up to 26 feet (7.9 m) in length. If the logs are 20 feet (6.09 m) and shorter, then leave them at the towing length and lower the stabilizer jacks. This lets you quickly level all corners and sides, so you're set up and in production in a matter of minutes.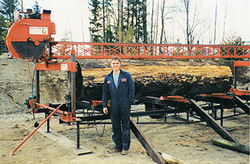 The Mobile Trailer is designed and constructed with the same meticulous craftsmanship that is evident in the Mobile Dimension Saw. The heavy-gauge steel frame features rigid, lightweight cantilever construction. Fifteen-inch tires and tandem wheels with spring supported axles make towing very stable and easy.
The Mobile Trailer is completely wired with running and license plate lights as well as tail, turn and brake lights. Optional features include electric brakes (required in some areas), and a battery-powered winch attachment for log loading. Nut and bolt construction allows for easy disassembly and reassembly when crated for shipping.
Set Up and Operation of the Mobile Trailer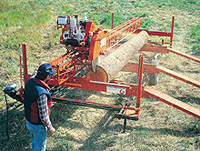 The operator has set the size of the lumber to be sawed, and has started the sawing operation. The operator has complete control of the saw carriage both in speed and direction.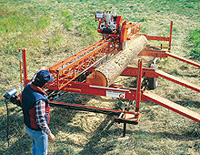 The saw is at the midpoint of the log. The operator is able to maximize production by controlling the sawing speed of the saw, adjusting it according to the size of the cut, species, and knots.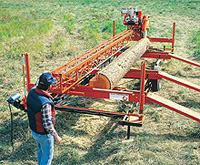 The saw has completed the sawing operation. It automatically reverses and picks up the sawed lumber.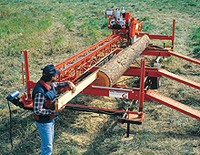 The saw is returning to the starting position and is bringing both the sawed lumber and the edging back to the operator for easy sorting and stacking. It will wait for the operator to start the next operation.