Our Products
Mobile Dimension Saw

Gasoline Sawmill
Order Form

Electric Sawmill
Order Form
Putnam Bogie Trailer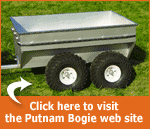 Mobile Dimension Saw - Features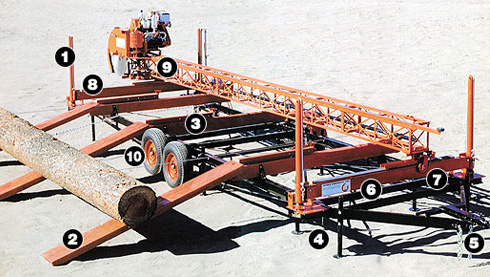 Endstands allow the operator to quickly and accurately raise and lower all four corners of the sawmill from the operator's position.
Log Loading Ramp allows easy and fast loading of the logs onto the cutting surface.
Log Holders securely holds log or multiple logs in sawing position. Once in place the log is completely sawed without moving or turning.
Adjustable Jacks for quick leveling and stabilizing of the mobile trailer.
2-inch Ball Coupler with safety chains for safe, easy towing.
Rack and Pinion Crossbeam precisely supports the sawmill for accurate horizontal movement.
Rack and Pinion Shoe positions the sawmill in the horizontal direction.
Main Saw Blade, 30 inches (762 mm) in diameter, designed and manufactured by Mobile Manufacturing Company to exacting standards. Different sawblades are available, varying in the number and width of teeth, optimized not only for the different available power sources but also for the different species of logs you want to saw.
Edger Blades, 11-1/2 inches (29.1 mm) in diameter also designed and manufactured by Mobile Manufacturing Company. Different sawblades are available, varying in the number and width of teeth. The lower blade remains stationary, while the upper blade is adjusted vertically to cut the desired depth dimension. A third edger blade may be added when cutting smaller dimensions for even greater production per man hour. A 19-1/2 inch (495 mm) sawblade that comes with the model 128 is exchanged with the 11-1/2 inch (29.1 mm) sawblade to allow larger dimensions up to 8-1/4 inch (210 mm) to be sawed from the log.
Tandem axles allows easy and stable towing and fast setup.
Rigid Steel Track provides maximum strength and stability as it carries the saw through the log. Two 10-foot (3.05 m) track sections and one 4-foot (1.22 m) are standard with the trailer that allows cutting of logs up to 20 feet 4 inches (6.2 m). Track sections can be added to sawmills not on trailers to saw logs up to 60 feet (18 m) in length.
Telescoping Side Channels extend the trailer log cutting length to 26 feet 4 inches (8.03 m). An additional 6-foot (1.83 m) track section will need to be added.
Adjustable Torsion Bars keep the trailer stable and squarely positioned at all times.
Log Loading Winch with DC electric motor and worm gear drive allows easy loading of logs onto trailer.
Battery Box enclosed for protection and transport of two 12 volt DC batteries.
Reversible-Drive Motor Lift raises and lowers the sawmill on the endstands.
Rack and Pinion Dial allows the operator to precisely gauge the horizontal dimension of each cut.
Engine (or optional electric motors), available in a variety of horsepower ratings. Modified to provide maximum power under adverse operating conditions. Easily removed and reinstalled for easy transport and handing.